Broken & Renewed Glass Art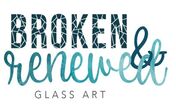 Broken & Renewed Glass Art is the embodiment of my journey into mixed media jewelry which began over 25 years ago when I started working with stained glass in Tucson, AZ.
After moving to St. Charles, MO, I was introduced to glass fusing. I love the dynamic way that color can change when heated in a kiln. The variety of color possibilities is amazing...talk about rainbows. Learning to wire wrap became my way to turn the cabochons (focal pieces) into pendants, bracelets, earrings, and other accessories. I enjoy working with hand-painted porcelain cabochons…which are both colorful and lightweight…along with fused glass, Silver Silk knitted cord, satin cord, along with a variety of beads, wire and findings.
Throughout the years, I have taken classes to learn different techniques including Kumihimo cord and bead work, a unique addition to my portfolio, together with a variety of new wire wrapping techniques. I continue to learn through classes and online sources drawing inspiration and encouragement from them and allowing me to continue my passion for creating unique pieces of wearable art.
I am affiliated with several art organizations who have helped me to stay grounded and broaden my relationships within the artist community.
• Self-Representing Artists in Jewelry Design (SRAJD) – Member for 10+ Years
• Best of Missouri Hands (BOMH) – Juried Member
• Greater St. Louis Art Association (GSLAA) - Member
• St. Charles County Arts Council - Member
• Crossroads Arts Council - Artist Member
When you visit the Greater St. Louis area, you can find my work at the following locations:
• Framations Art Gallery (St. Charles, MO)
• Lillian Yahn Gallery (O'Fallon, MO)
• Missouri's Trading Post (Hermann, MO)